IPLeak - WBRTC IP Leak - VPN IP-Leak Tester Online
| IP address | Hostname |
| --- | --- |
| 35.175.191.46 | ec2-35-175-191-46.compute-1.amazonaws.com |
WebRTC:
Sponsored
If you are using any VPN service and is able to see your ISP IP in WebRTC section, then your system is leaking WebRTC requests.
---
What WebRTC IPLeak Test?
WebRTC can reveal your real IP address to the sites you visit. This is a serious threat for those who use VPN services and monitor their privacy on the Internet. In popular browsers, such as Google Chrome and Mozilla Firefox, WebRTC is enabled by default. When sending queries to STUN servers, you can obtain the external and local IP addresses of the user. To check for a WebRTC leak, connect to the VPN service and run the WebRTC leak test . A leak will be identified if your real IP address is displayed.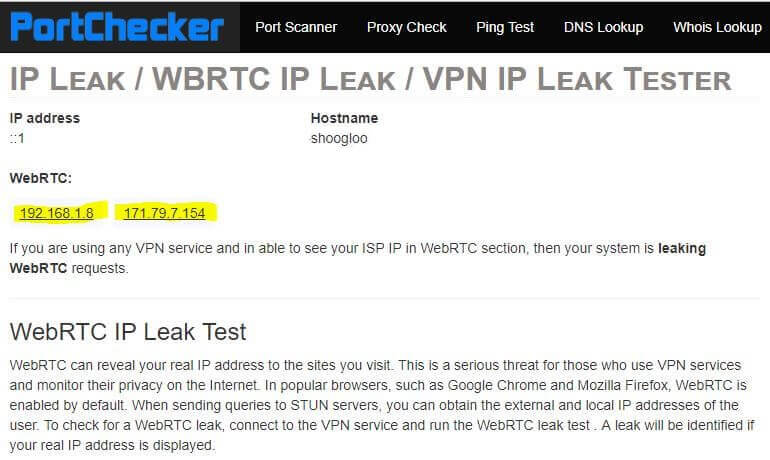 What is WebRTC ?
Sponsored
WebRTC (Real Time Communication) is a technology that allows users to transfer streaming audio and video data between mobile applications and browsers. WebRTC is a direct competitor to Skype. This web technology allows developers to avoid obstacles in the creation of specialized services that work with contextual information in real time. With WebRTC, users can create video conferencing directly in browsers without any intermediaries. WebRTC has fully open source code and is often advertised by Google, especially in the Google Chrome development team. The most vivid example of the implementation of the capabilities of WebRTC is the contact center, which provides additional opportunities for clients and agents.
The best solution to protect against IP address leaks is to disable WebRTC technology if you do not use it. This guide will help you do this in popular browsers Google Chrome, Mozilla Firefox and Opera
Sponsored