Minecraft Server Status Checker
Minecraft Server Status Checker tool allows users to check the availability and status of Minecraft game servers. You will be able to find out whether the server is online or offline, active playes count and version of Minecraft supported.
If your Minecraft server is running on port other than 25565 you can use our port checker tool to test.
Sponsored
How Minecraft Server Status Checker works ?
A Minecraft Server Status Checker works by connecting to a Minecraft server and retrieving information about its current status. This is typically done using the Minecraft server's IP address and a query port, which is used to communicate with the server. Once connected, the checker will send a request for information, such as the server's status, player count, and ping. The server will then respond with this information, which the checker will display to the user. The checker may also periodically check the status of the server and update the information displayed to the user in real-time.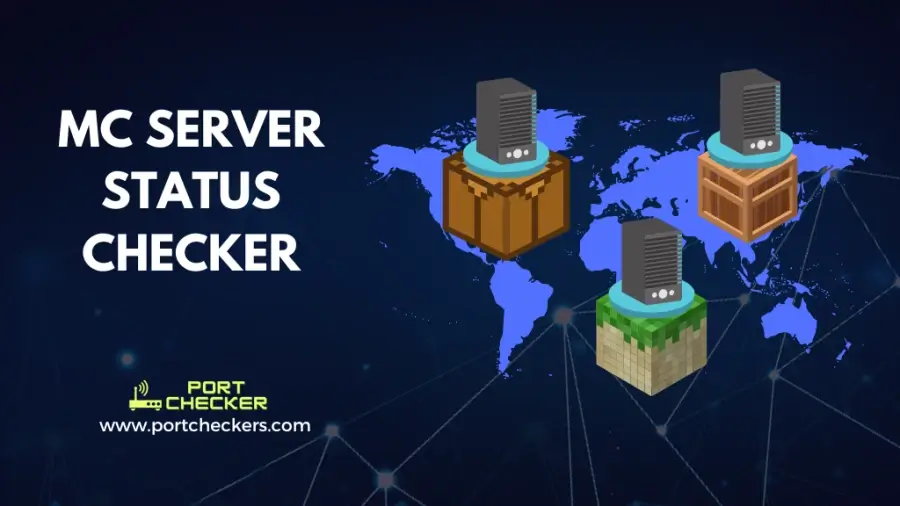 It's important to note that some checkers are built to only check a server's availability and some other checkers can check for more information such as the number of players on the server, the server version, the motd and so on.
Sponsored
In addition, Some checkers also provide additional features such as the ability to sort servers by certain criteria, or even allow players to vote for their favorite servers, which can help other players find good servers to play on.
Best Minecraft Servers
Minecraft servers are online communities where players can join to play and interact with other Minecraft enthusiasts. The best Minecraft servers offer a wide variety of game modes, from survival and creative to mini-games and roleplay, each with their unique gameplay mechanics and rules.
These servers often have active and engaged communities, with players from all over the world, creating a vibrant and dynamic experience. The best Minecraft servers typically have well-designed maps and custom plugins, which enhance the overall gameplay experience. They also have active moderators and staff members who ensure the smooth functioning of the server and maintain a safe and welcoming environment for players of all ages.
Overall, the best Minecraft servers provide a fun, social, and engaging experience for players, with endless opportunities for exploration, creativity, and competition. In case you are looking for some good servers to play Minecraft online, here is a list of soe of the best servers available:
Minecraft Survival:
Hypixel - IP: mc.hypixel.net
Mineplex - IP: us.mineplex.com
Cubecraft - IP: play.cubecraft.net
The Hive - IP: play.hivemc.com
Hermitcraft - IP: hermitcraft.com
Minecraft Creative:
Minecade - IP: play.mineca.de
TheArchon - IP: thearchon.net
Mithrintia - IP: mithrintia.com
CityCraft - IP: play.citycraft.net
TheNodeMC - IP: play.thenodemc.com
Minecraft Mini-games:
Hypixel - IP: mc.hypixel.net
Mineplex - IP: us.mineplex.com
The Hive - IP: play.hivemc.com
CubeCraft - IP: play.cubecraft.net
TheArchon - IP: thearchon.net
Minecraft Roleplay:
Wynncraft - IP: play.wynncraft.com
MCCentral - IP: mccentral.org
PirateCraft - IP: mc.piratemc.com
UniverseMC - IP: play.universemc.us
GrandTheftMinecart - IP: mc-gtm.net