The basic idea bedind configuring different makes of Dlink Router remains same, though there might be some variations in settigs among diffenet makes. Port redirection or forwarding may be needed, for setting up a peer network or in case you want to deploy a server on the local computer to access the Internet,also this may be needed for multiplayer games.
To start configuration, first Open any web browser(any .. Google chrome, IE or Firefox) and type in the address bar 192.168.0.1 . You will be asked for user name and password. Pass the necessary details and go to tab, ADVANCED and choose the tab Port Forwarding .
Port Forwarding Configuration
After logging into Admin panel, click go to advanced menu and then port forwarding section. This screen allows you to configure multiple port forwarding in one go. Lets start with configuring just one port which is RDP (3389) we just want to enable remote desktop. Follow below steps :
Check the first checkbox
In name box enter RDP ( this label can be anything of your own choice)
Enter 3389 as port number under ports to open column
For IP address you need to enter the ip address of the machine for which you are setting up the port forwarding. In our case it is 192.168.1.3
After rule setup is done, just click on save button to apply the setting.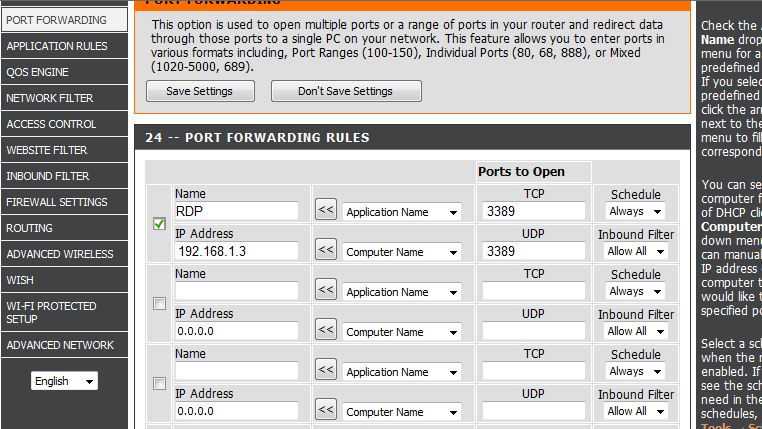 One important point you should remember that the device for which you are forwarding the port should have same private ip asigned which we have just entered in the configuration screen. Also, this IP address should be set as static IP so that the device should always be available at the same IP address. Having a dynamic IP may result in failure as device can get a new IP address assigned after reboot.
Test Port Forwarding
After you are done with router settings you need to find your external IP address so that it can be accessed remotely. To do so visit our main page at portcheckers.com. A screen similar to beow will be displayed.


By default this page displayes your external IP Address. Now enter the port number you want to trace and click check button to test whether port forwarding have been set or not.