DMZ in a router is a function that allows you to open all external ports for a specific IP from the router's local network. Usually used to implement remote access to a specific device behind the router. Especially often DMZ is used to access from anywhere in the Internet to IP cameras or DVR, i.e. for video surveillance.

Many Wi-Fi routers have the function of providing access from an external network to devices on their local network (DMZ host mode, it is also the exposed host). In this mode, the device (computer, DVR, IP camera, etc.) in the local network all ports are open. A DMZ host can freely connect to resources on the internal network, while connections to the internal network from the canonical DMZ are blocked by the firewall that separates them.
In terms of security, the solution is not the best. It should be remembered that this is just one of the ways to organize access to the device in another local network. A better and popular way is port forwarding which is supported by almost any modern and router. Any schoolchild will cope with the DMZ setup, but port forwarding is not so easy for a person who does this for the first time.
Configure DMZ Host in TP-Link Router
Step 1: Login to the management page

Open the web browser and type the IP address of the device in the address bar (default is 192.168.1.1/192.168.0.1/192.168.0.254). Press Enter.

The default username and password are both admin. Click OK to log into the device.

Step 2: Configure the DMZ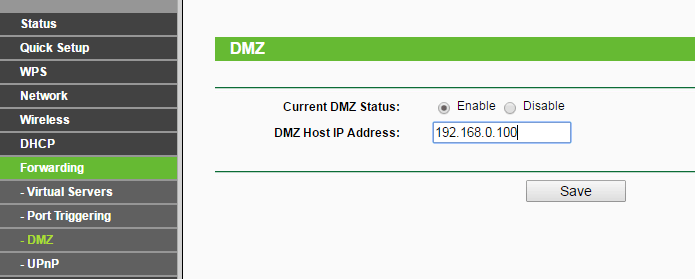 Once you are done with DMZ host configuration. You can now test open ports by going to portcheckers.com home page.